While Kaladesh may not have inspired me to do as much deck-building as previous sets, it has inspired me in another way: Flavour.
NICKNAMES
Much like "Robopup", for Filigree Familiar, there are other cards that I will likely refer to by their new nicknames. Here are some that I've either come up with, or seen elsewhere (or both! great minds think alike).
AERIAL RESPONDER -> VAMPIRE WHITEHAWK
Makes sense...
VISIONARY AUGMENTER -> "GET AWAY FROM HER YOU BITCH!"
I'm sure this resemblance to Ripley fighting the Alien was no coincidence
CEREMONIOUS REJECTION -> "TALK TO THE HAND!"
She is a rebel and a traitor! Take her away!

PRAKHATA CLUB SECURITY -> "YOU AREN'T ON THE LIST!"
I didn't want to go to your stupid club, anyway!

WILY BANDAR - THE GRINCH
I guess it is hard to do a "Cat Monkey", but c'mon...

KAMBAL, CONSUL OF ALLOCATION -> SOUP NAZI
"No non-creature spell for you!"

NARNAM COBRA -> NOMNOM COBRA
Much easier to remember.
INVENTOR'S APPRENTICE -> NERD APE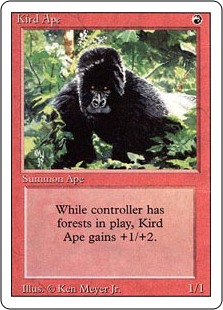 The newest 2/3 for one red mana.

DHUND OPERATIVE -> "DUN DUN DUN!!"
The card that comes with its own soundtrack!

PICTURE IMPERFECT
I don't usually like criticising art and artists, especially since it is a subjective medium.
Still, there are a few cards in Kaladesh where the art has me scratching my head...and it's not from my dog's fleas.
Not only is Curio Vendor a terrible card, but this might be the worst Magic card art in some time... the face just looks off.
"
They call 'em "fingers," but I never see 'em fing. Oh wait, there they go."
The "I did it!" expression looks a bit goofy, and how the hell is this guy a 3/2?
Do you even lift, bro? Of course not. This guy hasn't lifted anything heavier than a jar of peanut butter in his life.
Would you like some candy? Just come this way to my van!
Yes, this looks like Liliana telling Chandra, "It was me who farted!"
ASSEMBLE THE JACE-TICE LEAGUE! *Snore*
I hope you enjoyed this lighter look at Kaladesh. Maybe I'll make it a regular thing. Maybe I'll just be lazy and not.