While the first round of the
2014 NHL Playoffs
went about as much as expected (
I got 7 of 8 predictions correct
), the second round produced a lot of shocking results.
| | | |
| --- | --- | --- |
| PREDICTION | RESULT | MATCH? |
| | | |
| Hawks in 6 | Hawks in 6 | Y* |
| Kings in 6 | Kings in 7 | Y |
| Bruins in 4 | Habs in 7 | N |
| Penguins in 6 | Rangers in 7 | N |











Thanks to the more predictable Western Conference, I was able to go 2 for 4 with one perfect pick. That leaves me 9 for 12 for the playoffs, thus far.
Hawks v. Wild
- As usual, the Wild were almost-unbeatable at home, but were outclassed by the much stronger team. Kudos to the Wild for playing their hearts out.
Kings v. Ducks
- The Kings certainly don't make it easy for themselves, but they managed to edge out another California powerhouse. I wonder how much they'll have left in the tank. Admittedly, this is the series I watched the least.
Bruins v. Canadiens
- I picked the Bruins to sweep, and they really are the team with more talent and size ... but, the Canadiens were not intimated, and took the play right to the Bruins.
Yes, Carey Price pretty much carried the Habs for most of the series, but just look at how
Tomas Plekanec reacts (or doesn't) to this Brad Marchand cheapshot to the face.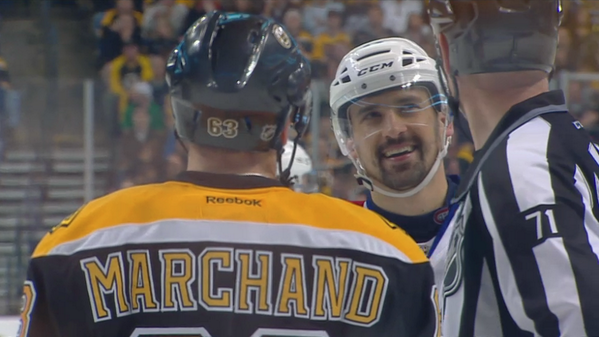 The Canadiens were not at all scared of the big bad Bruins, instead playing an aggressive speedy style that put the Bruins back on their heels. It was astonishing, and also great to see. I'm not fond of Therrien's coaching, but he's certainly pushing the right buttons right now.
*** Now, allow me to go on a bit of a tangent.
Milan Lucic is one of my favourite all-time players, especially since I got to see him grow up as a member of the Vancouver Giants. He led our WHL club to a Memorial Cup, and his story is one of perseverance.
That said, I've lost a lot of respect for him the past few weeks.
First, he seems to have taken up the hobby of spearing other players in the junk. A player of Lucic's size does not need to resort to such stickwork, and he's always been able to stick up for himself fairly in the past.
Second, the whole 'handshake line' nonsense. Yes, I think the forced handshake line tradition is overrated, but glaring at Dale Weise and threatening him with violence is just lame. Suck it up, shake hands, and move on. Lucic just comes off whiny, and seems to have picked up bad habits from douchebag Marchand.
So, for now, Brendan Gallagher has surpassed Lucic on my list of favourite Vancouver Giants. ***
Rangers v. Penguins
- This was the series that my gut told me would be an upset, but I went against my gut and picked the Penguins. Lesson learned.
The Penguins, like the Bruins, ran into a really hot goaltender. The lack of depth on the Penguins did not help matters, and Crosby/Malkin can't do EVERYTHING. Already, GM Ray Shero has been canned, and head coach Dan Bylsma might be soon behind.
It's not like the Penguins played poorly...really, they had the majority of chances and puck possession...but they just seem to flame out in the playoffs like the San Jose Sharks. To his credit, Marc-Andre Fleury played fairly well in this series.
ROUND 3 PREDICTIONS
LOS ANGELES v. CHICAGO
These are the two teams I consider the cream of the crop, despite the Kings not-as-dominating regular season record. The addition of Marian Gaborik has given the Kings much-needed offense, and Jonathan Quick has decided to stop being a merely average goaltender.
I think the Hawks edge will be the fact that the Kings will eventually run out of steam. The Kings have to travel a LOT more than the Hawks have, and the Kings have played two brutal seven-game series.
The Hawks have had some physically challenging series, too, but should be a bit more fresh. Otherwise, this is a battle of two great clubs.
Predictions: Hawks in 7
MONTREAL v. NEW YORK
(It's 2-0 New York in Game 1, as I type this...)
Honestly, I have no idea how to predict this series. I did not expect both teams to make it this far, and both teams have ridden red-hot goaltenders. One upset team in the conference finals makes sense, but two???
I do like the depth of the Canadiens more, especially up front. The Habs also have superstar d-man PK Subban, and should be able to generate more offense, overall.
Still, it's pretty much a toss-up, so let me flip this coin...
Prediction: Canadiens in 7